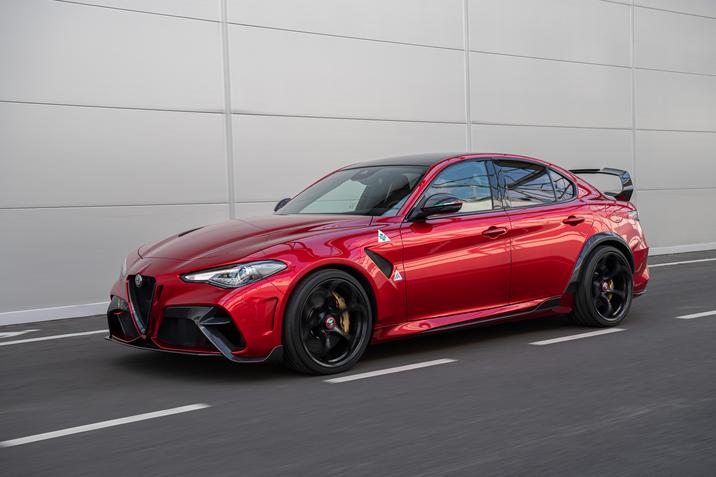 In 1965, Autodelta (the official Alfa Romeo racing team) developed the Giulia GTA. Standing for "Gran Turismo Alleggerita", this race-inspired model is based on the Giulia Sprint GT that was a sporting champion worldwide.
Fast forward to 2020 and the Alfa Romeo Giulia GTA is back! But this time, you can drive it in New Jersey!
This model is based on the interior features and specs of the spirited Alfa Romeo Giulia Quadrifoglio, which gives you:
8.8" touchscreen radio with 3-D GPS navigation & 14 Harman Kardon premium speakers
Apple CarPlay, Android Auto & Bluetooth for connecting your smartphone
4-mode Alfa DNA Pro Drive Mode Selector: Dynamic, Natural, Advanced Efficiency & Race
High-performance Brembo braking system
Advanced driver assistance systems like Forward Collision Warning-Plus & highway assist system
And much more!
There are 2 different versions of this unique vehicle available: the 4-seat Alfa Romeo Giulia GTA and the an extreme version called the Alfa Romeo Giulia GTAm (modified) that's a 2 seater. We'll explain to you exactly what exclusive offerings come in these limited-edition models.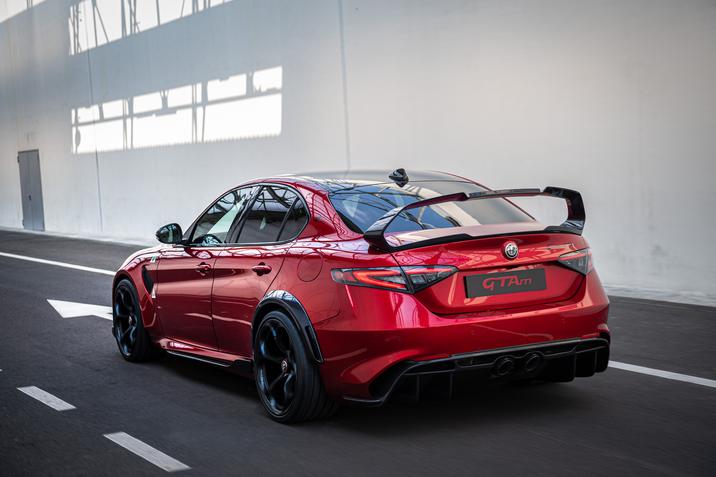 Alfa Romeo Giulia GTA Specs
Under the hood of the Alfa Romeo Giulia GTA is the Quadrifoglio's 2.9 V6 Bi-Turbo engine, which is specially tuned by our brand's engineers to now deliver an unprecedented 540 horsepower. And the roar of the exclusive titanium Akrapovic central exhaust system is unmistakable as you put the pedal to the metal.
The Alfa Romeo Giulia GTA also weighs just around 3,350 lb, which is a reduction of 220 lbs from the use of carbon fiber, lightweight aluminum & Lexan polycarbonate resin used in motorsports. As a result of this and the use of the Launch Control system, you can accelerate from 0 to 62 mph in just 3.6 seconds and enjoy a weight/power ratio of 6.2 lb/hp.
Sauber Engineering helped work on the aerodynamic design of the Giulia GTA to make it feel like you're driving a Formula 1 racer in an Italian luxury sports sedan body. Among the performance-enhancing features of this vehicles are:
Sauber Aerokit
Suspension systems with specially tuned springs, shock absorbers & bushings
Front & rear wheel tracks that are almost 2" wider for improved handling & accommodating the 20" center lock wheels
Specially designed side skirts, rear spoiler & active front splitter
Front piece with larger front splitters & real carbon rear wing for more optimal balance (Giulia GTAm only)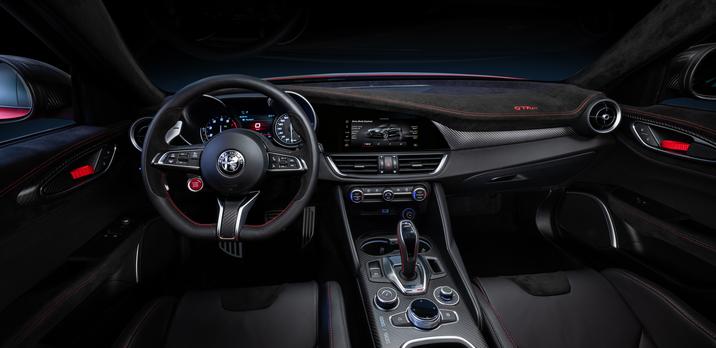 Alfa Romeo Giulia GTA Interior Highlights
Inside of the Alfa Romeo Giulia GTA are new matte carbon inserts to provide an even more elegant and athletic appearance. There's also 100% Alcantara, which is a material used in only the most luxurious cars while giving you a sporty look, throughout the interior on the car's:
Dashboard
Door panels
Glove compartment
Side pillars
Central trim of the seats
This also applies to the Alfa Romeo Giulia GTAm, which removes the rear bench seats and leaves room for a fully Alcantara-upholstered "basin" with specific moldings for holding helmets & a fire extinguisher. It also features a roll bar, 6-point safety belts & a belt replacing the door handle to give more of a race car feel.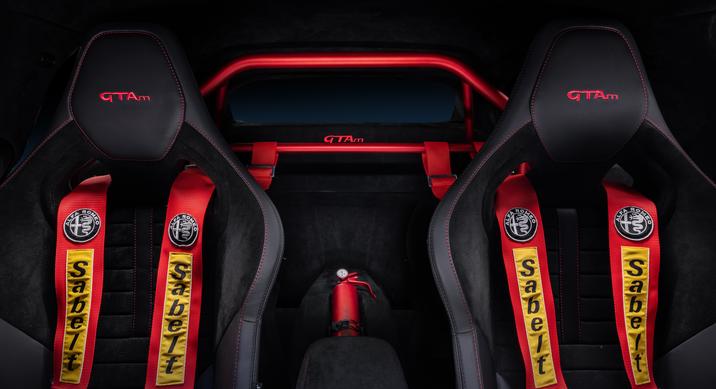 There will only be 500 Alfa Romeo Giulia GTA & Alfa Romeo Giulia GTAm models made and the advance bookings for these numbered-and-certified vehicles are officially open & will close once the 500th one has been reserved. The sales process will be one-to-one, with a brand ambassador product specialist following you from order to delivery.
If you choose to get a Giulia GTA or Giulia GTAm, you'll also receive gifts such as:
Bell helmet in special GTA livery
Full racing set by Alpinestars including a suit, gloves & shoes
Personalized Goodwool car cover
A drive on a specific course devised by the Alfa Romeo Driving Academy
Ramsey Alfa Romeo has all the details about the Alfa Romeo Giulia GTA & Alfa Romeo Giulia GTAm, so contact us to learn more about how you can get yours to drive throughout New Jersey and beyond!