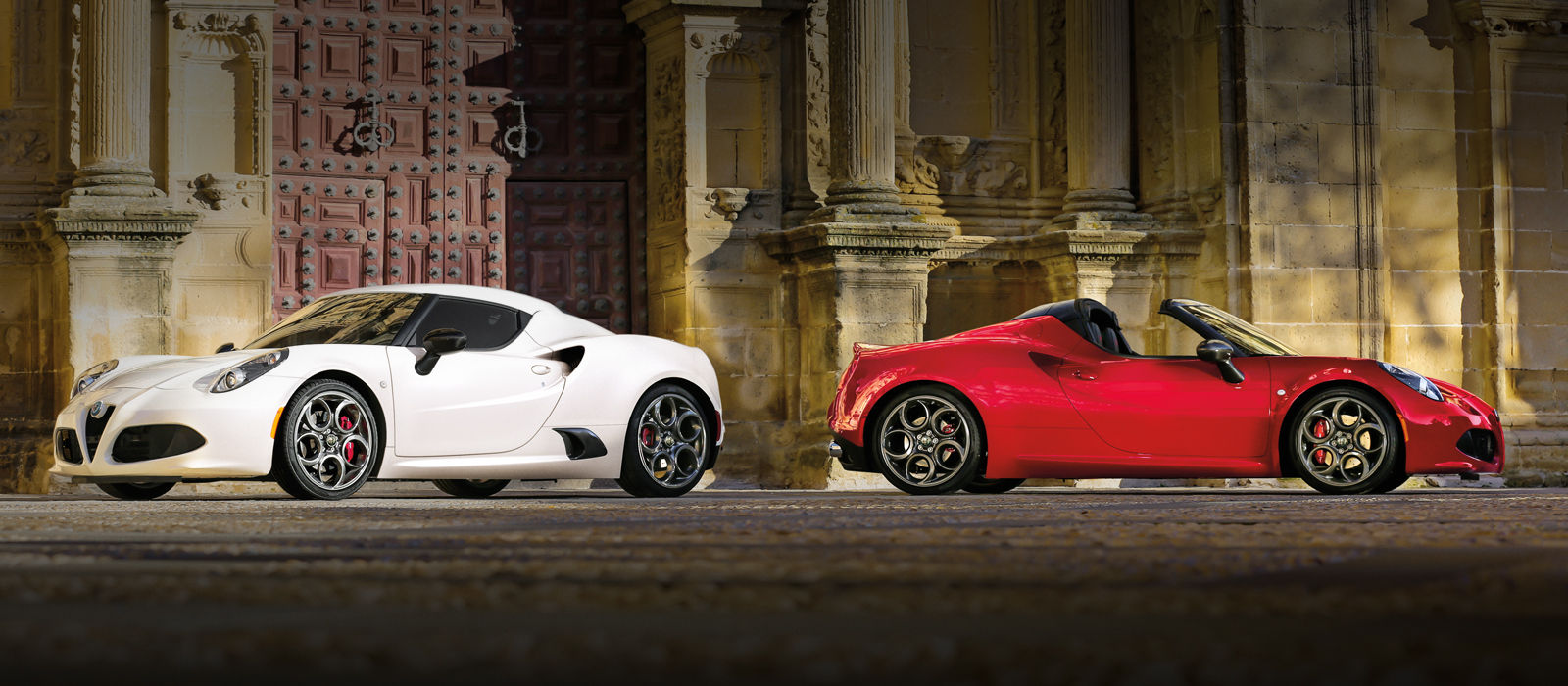 We know that there's only one choice when it comes to an Italian sports car that both thrills on the road and with the amenities that you can get: the Alfa Romeo 4C. However, there are 2 different versions that you can choose from: the Coupe 2-door car and the Spider 2-door roadster.
Both boast a number of upgraded features inside including:
Alpine sound system for a studio-quality audio experience
Cozy sport seats
Aluminum pedals with laser etching
Leather-wrapped flat-bottom performance steering wheel
Plenty of carbon fiber interior detail options
However, the 2 models have a couple of key differences, the most prominent being the roof. But there are some other ones that you might not expect, but we thought you should know about.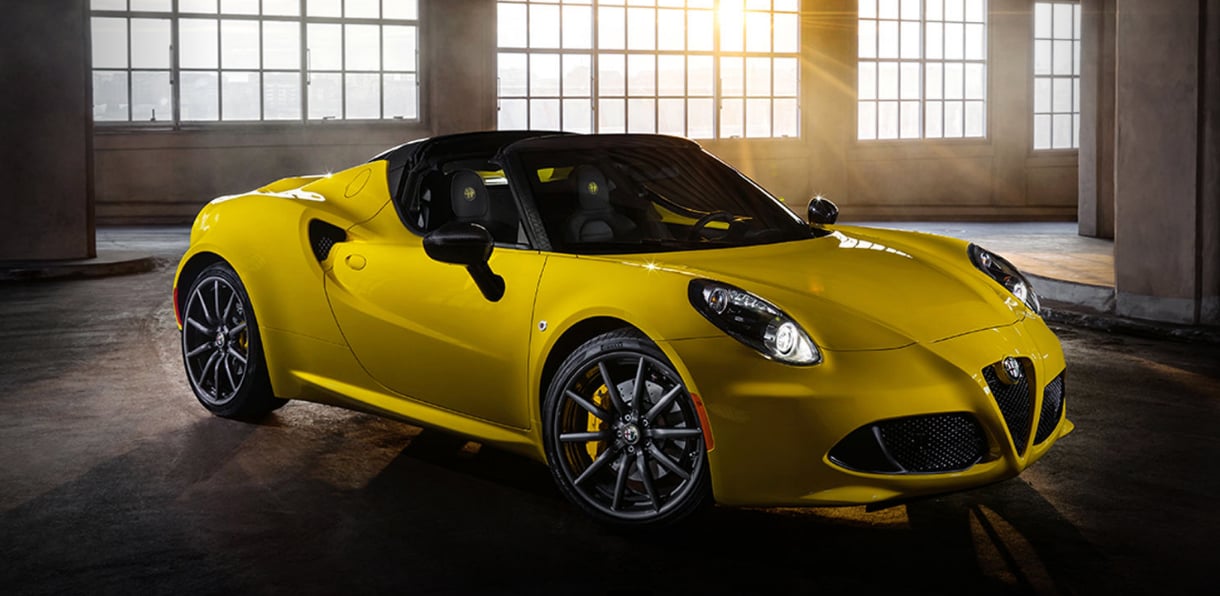 Hardtop vs Soft Top
There are 2 different types of sports cars on the roads of North New Jersey and the Alfa Romeo 4C is offered with both! You can enjoy an open-air driving experience thanks to the Alfa Romeo Spider's black premium cloth trunk-stowable removable roof.
For superior aerodynamics, the Alfa Romeo 4C Coupe uses a body-colored hardtop. A carbon fiber roof is also available to compliment the front fascia with carbon fiber vents that's optional on either model for a sportier look.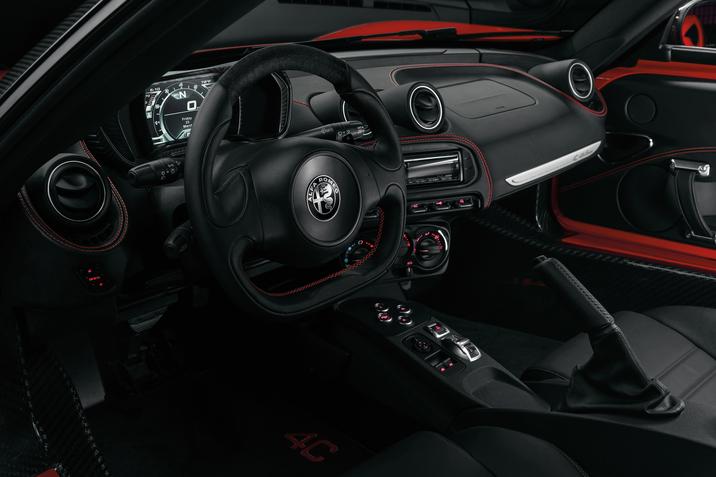 Alfa Romeo 4C Coupe vs Spider: Other Differences
Speaking of carbon fiber, the Alfa Romeo 4C Spider comes standard with a carbon fiber windshield surround and a black halo that's also available as carbon fiber if you opt for an upgrade. The Coupe comes with a body-colored or carbon fiber deck lid spoiler and a black headliner.
The 4C Coupe also equips a thermoformed dashboard and standard door panels with leather pull-handle that's not offered on the Spider. The Spider (and select Coupe models) utilizes a leather-wrapped dashboard and door panels with seat-matched accent stitching. Either way, you'll get a premium feel inside.
Black cloth seats come standard in the 4C Coupe, while Black leather seats with Red accent stitching are included in the 4C Spider. Not only is that combination available for the Coupe as an upgrade, there are also numerous seating options to pick from for both. Among them are:
Black leather with Yellow accent stitching
Red leather with Black accent stitching
Black/Tobacco leather with Tobacco accent stitching
Black leather with Red accent stitching and microfiber center inserts
Black leather with Yellow accent stitching and microfiber center inserts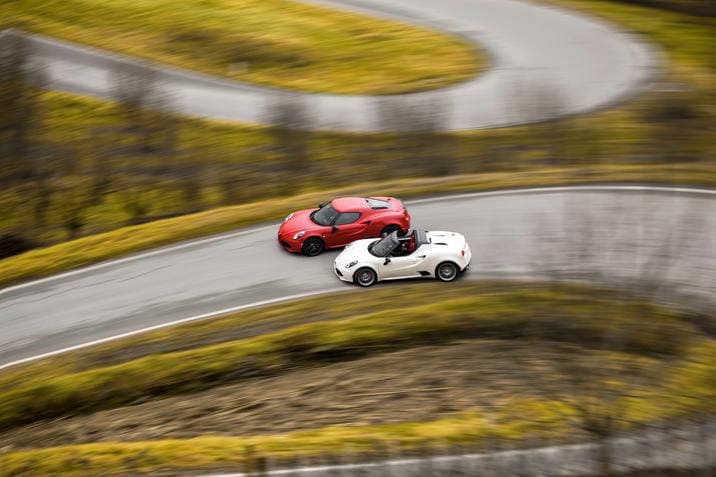 Whether you retract the soft top or prefer a more rounded roof, you'll enjoy putting the Alfa Romeo 4C's pedal to the metal. Under the hood is an all-aluminum 1750 turbocharged 4-cylinder engine that delivers 237 horsepower & 258 lb/ft of torque.
Not only does it enable the Alfa Romeo 4C to hit a top speed of 160 mph and accelerate from 0 to 60 mph in just 4.1 seconds, but you can also get great gas mileage. In fact, this sports car is capable of getting up to an EPA-estimated 34 mpg highway.
The winner of the Alfa Romeo 4C Coupe vs Alfa Romeo 4C Spider dual is up to you. Ramsey Alfa Romeo will help you find the right model for your driving needs, so contact us today if you're shopping for a new sports car in New Jersey!