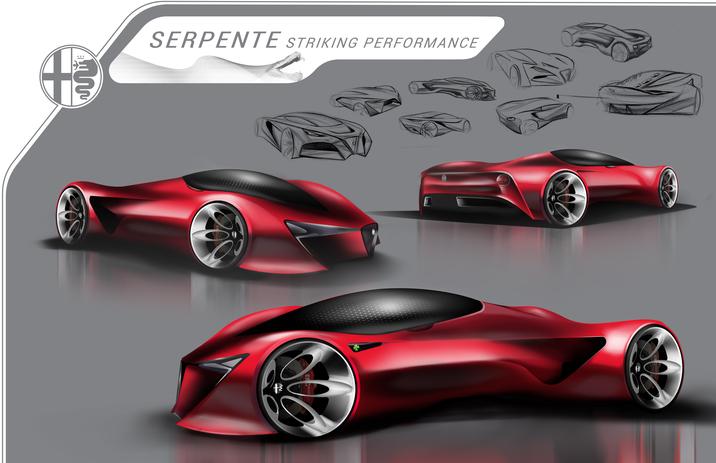 Our Italian luxury vehicle brand is known for its elegant yet sporty design cues. That's why we're both proud and unsurprised that Alfa Romeo gave inspiration to the winning artwork for the 2019 Drive for Design contest!
The first place winner is Maximillian Cooper, who attends Design and Architecture Senior High in Miami FL. His design, called the Alfa Romeo Serpente, really takes the striking performance of the Quadrifoglio models to the next level with an aerodynamic appearance that looks more akin to a F1 car like the one Alfa Romeo Sauber F1 Team 37 drove but it also includes a badge with the distinct Quadrifoglio logo on the side.
Our brand also inspired the second place winner, Kennedy Catholic High School student Mason Ross from Burien WA. His Alfa Romeo concept, pictured below, bares a resemblance to the Serpente, except it has a wider body and a prominent iconic logo that combines the symbol of Milan with the emblem of the Visconti family that was created in 1910.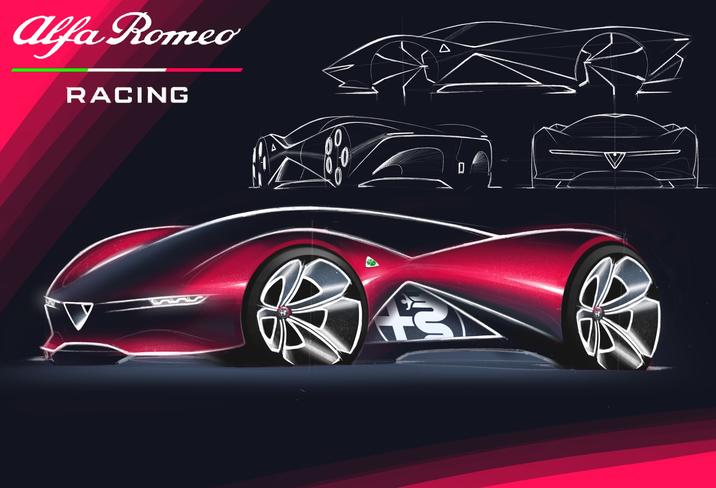 "We are always impressed by the next generation of talent that competes in the annual Drive for Design contest, but this year our expectations were vastly surpassed based on the level of comprehensive art work submitted. And, similar to a real-world sketch review, after much debate, the winning designs came down to the aesthetic details.

"Even though it's a growing field, automotive design can often be overlooked by students entering the workforce, so our goal with this competition is to change that perspective and encourage promising talent to pursue opportunities where they could design the vehicles of the future."

-Mark Trostle, Head of Performance, Passenger Car and Utility Vehicle Design for FCA – North America
The 2 students, along with the 3rd place winner, received the following:
Behind-the-scenes tour of the FCA US Product Design Studios in Auburn Mills MI
One-on-one time with our automotive design team
Scholarship for the Precollege Summer Experience Transportation Design program at College for Creative Studies that's focused on automotive design
An award presented at the EyesOn Design "Vision Honored" Black Tie Gala & Silent Auction
Position as junior judges at the EyesOn Design Car Show on Father's Day weekend
Trostle started this annual event in 2013 because he was inspired by a contest he won as a high school student that eventually led him to his role at FCA – North America, which is leading the design efforts for vehicles like the Alfa Romeo Stelvio & Alfa Romeo Giulia. The FCA US Product Design Office partners with EyesOnDesign for this annual competition.