Shopping for a luxury SUV that has the comfort, features and performance you're looking for can be tough. We know that several North New Jersey drivers are cross-shopping the Alfa Romeo Stelvio because of their reputations in the market.
In the Alfa Romeo Stelvio vs Lexus RX 350 comparison, there's only one model that comes out on top and it's the Stelvio. Between added choices, sportier power & design cues and the availability of some cool amenities, there are so many reasons to pick the Alfa Romeo.
For this comparison, we're analyzing the Alfa Romeo Stelvio & Alfa Romeo Stelvio Quadrifoglio side by side with the Lexus RX 350 & Lexus RX 350 F Sport.
Shop For a New Alfa Romeo Stelvio
More Design Choices
When you compare the Alfa Romeo Stelvio to the Lexus RX 350, you'll find that you have more options when trying to personalize your vehicle. The RX 350 offers 8 interior color & material combinations, whereas the Stelvio provides 10 interior choices including contrasting accent stitching and smooth leather.
The Alfa Romeo Stelvio gives you 13 exterior paint color options, so you can customize the look of your luxury SUV to your specific tastes while the Lexus RX 350 only provides 9. The RX 350 also doesn't offer models with distinct appearance enhancements such as the Nero Edizione, Ti Lusso & NRING.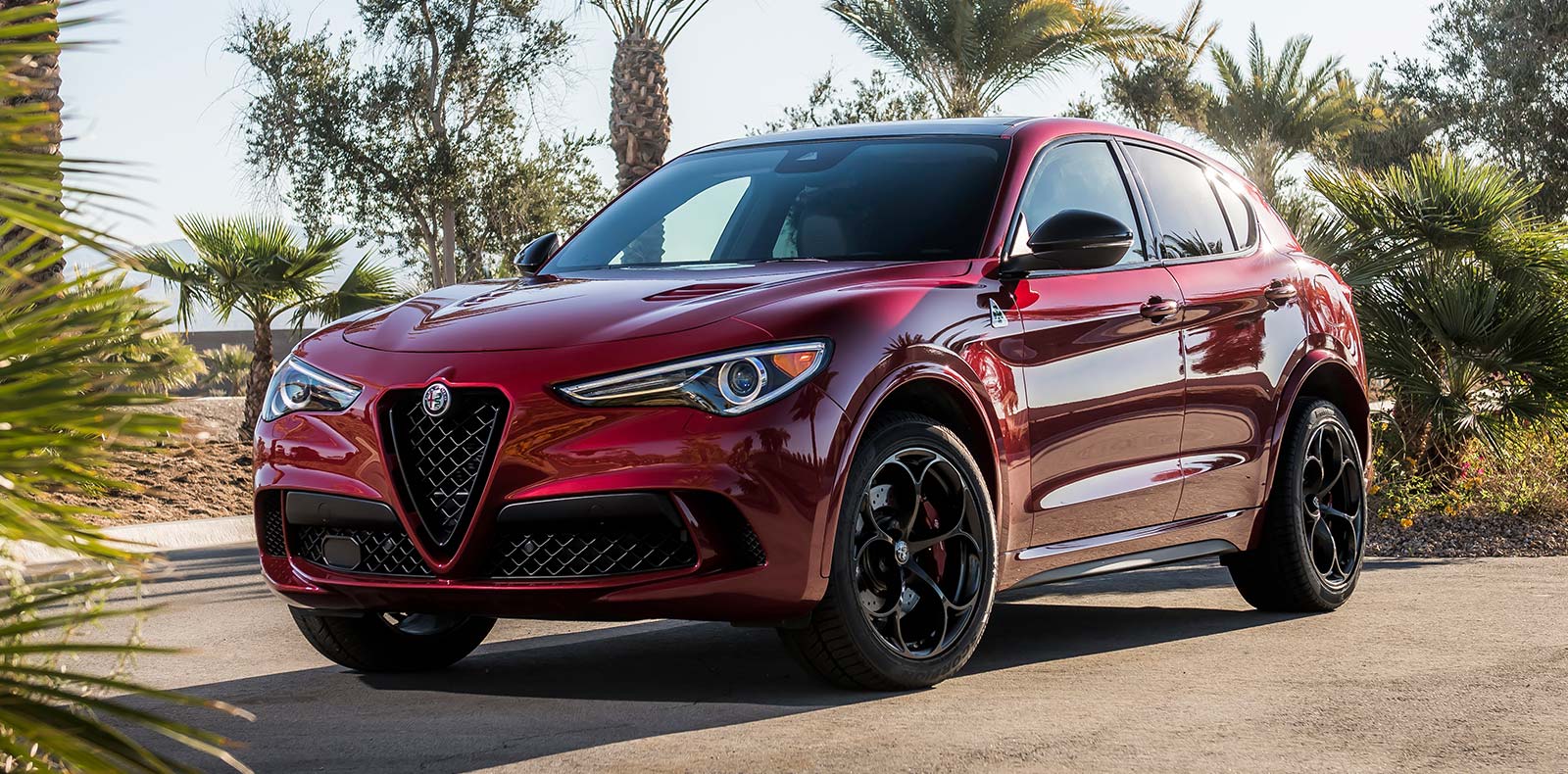 Superior All-Around Performance
If you're looking for the right combination of power, handling & gas savings, the Alfa Romeo Stelvio wins again with its 2.0L turbocharged 4-cylinder engine that delivers 280 hp & 306 lb/ft of torque. The Lexus RX 350's 3.5L V6 may deliver comparable power (295 hp & 268 lb/ft of torque), but it lacks in fuel efficiency.
The Alfa Romeo's engine offers fuel economy rated at up to an EPA-estimated 29 mpg highway & 22 mpg city. This is an EPA-estimated 2 mpg higher for both city & highway driving than the Lexus's engine, so you can drive for longer between every fill up.
Want a more high-performance driving experience? You can't trust the Lexus RX 350 F Sport since it's sport in name only, as it uses the same 3.5L V6. Stepping up to the Alfa Romeo Stelvio Quadrifoglio gets you the 2.9L twin-turbocharged V6 that delivers 505 hp & 443 lb/ft of torque and can go from 0 to 60 mph in just 3.6 seconds.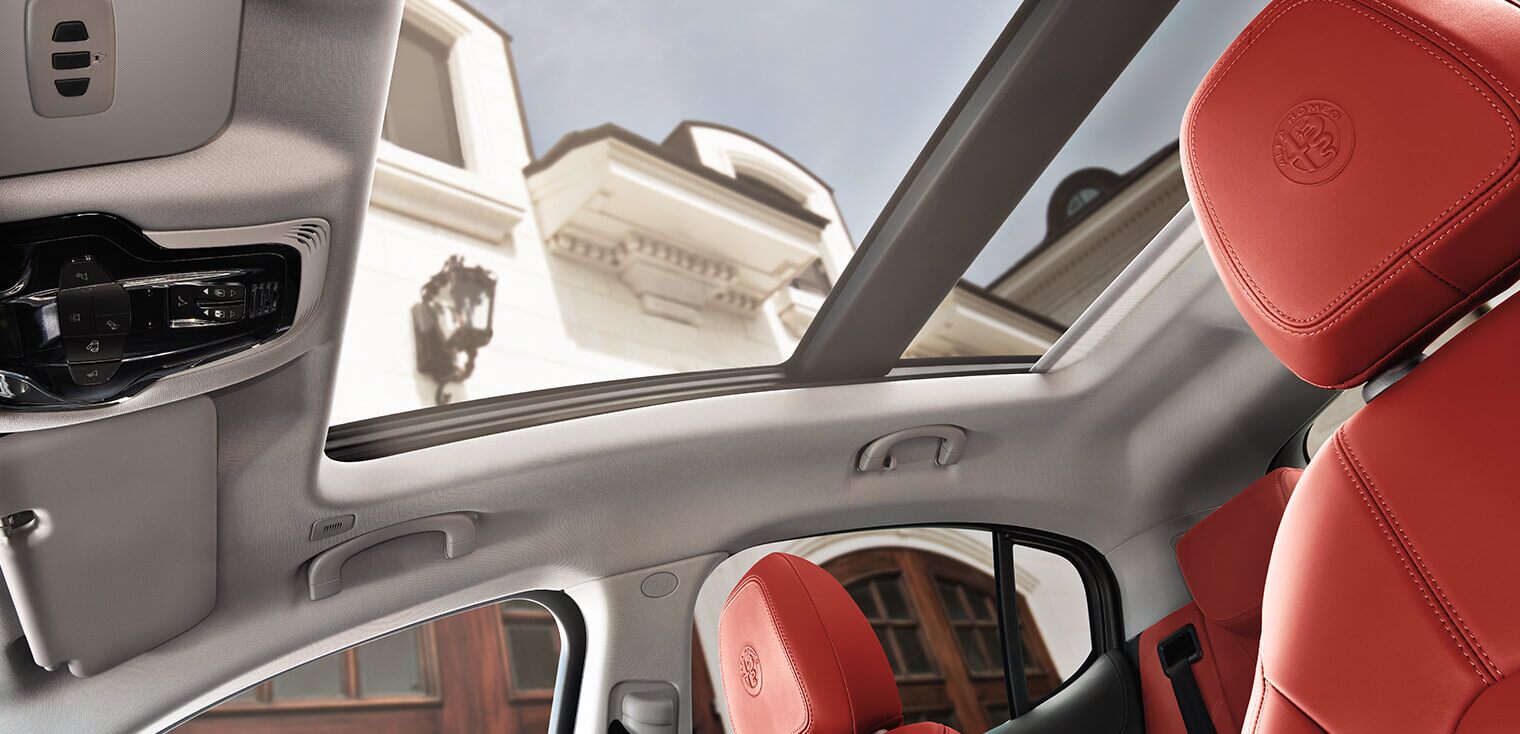 ?
Better Feature Lineup
Both the Alfa Romeo Stelvio and Lexus RX 350 provide a plethora of amenities inside & outside. Let's start with roof rails for carrying cargo like bikes, kayaks & car carriers, which comes standard in the Stelvio. They're only offered as an upgrade for the RX 350.
Speaking of cargo, you can get the option to have a trailer tow hitch on the Alfa Romeo Stelvio to help tow up to 3,000 lbs. That's enough for a trailer with your favorite off-road vehicles, jet skis or a small boat. This helpful option isn't available for the Lexus RX 350.
The summer means nice weather and a sunroof is a popular upgrade that many of our customers opt into. The Stelvio offers a dual-pane sunroof, so passengers in all seats get the natural sunlight, extra breeze & view of the night sky this feature provides. The RX 350's sunroof only provides a single pane for the front row.
Two more details that make the Alfa Romeo Stelvio better than the Lexus RX 350 is the fact that memory capability for the driver's seat comes standard in the Stelvio compared to being an upgrade for the RX 350 and auto-dimming outside mirrors being available for the Alfa Romeo compared to being unavailable for the Lexus.
Alfa Romeo Stelvio vs Lexus RX 350: one choice, one SUV exuding more luxury and sportiness. Choose the Stelvio at Ramsey Alfa Romeo today and you'll be driving home in an award-winning SUV!