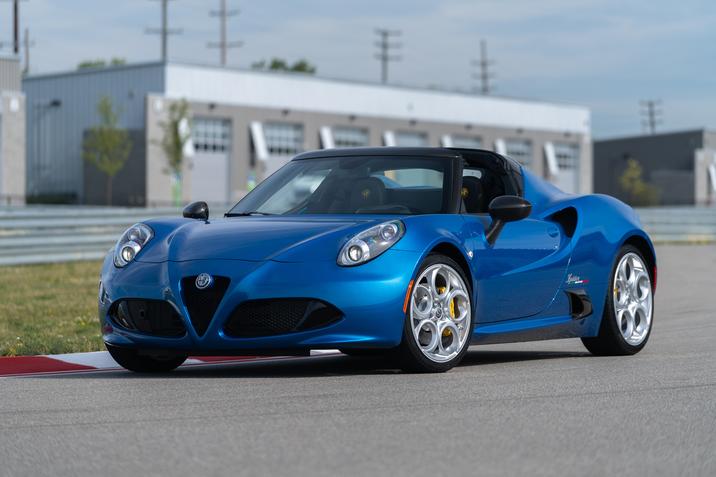 The Chicago Auto Show is one of the premier events of the year to showcase new production cars and limited-edition models. And the 2020 Alfa Romeo 4C Spider Italia was the highlight of the event!
There will only be a total of 15 of these limited-edition models coming to the United States, which makes the 2020 Alfa Romeo 4C Spider Italia a to-have vehicle in New Jersey if you're looking for a distinct roadster that's made to turn heads because of its look and performance.
Coming equipped will be an all-aluminum 1750cc turbocharged engine with direct-injection, dual intercoolers & variable-valve timing that delivers 237 horsepower, 258 lb/ft of torque, a top speed of 160 mph and the ability to accelerate from 0 to 60 mph in just 4.1 seconds. The 4C Spider Italia will also offer:
Formula 1-inspired carbon fiber monocoque chassis enabling a 10.4 power-to-weight ratio
Rear backup camera to show you any inanimate objects, people or animals, so you can prevent yourself from hitting them as you go in reverse
Rear park sensors that alert you with a distinct sound when you're about to bump into an obstacle as you back your roadster up
Cruise control to allow you to maintain a set speed & take a break from pressing on the gas pedal on highways like the NJ Turnpike & Garden State Parkway
And many more luxury features that come in production 4C Spider models already!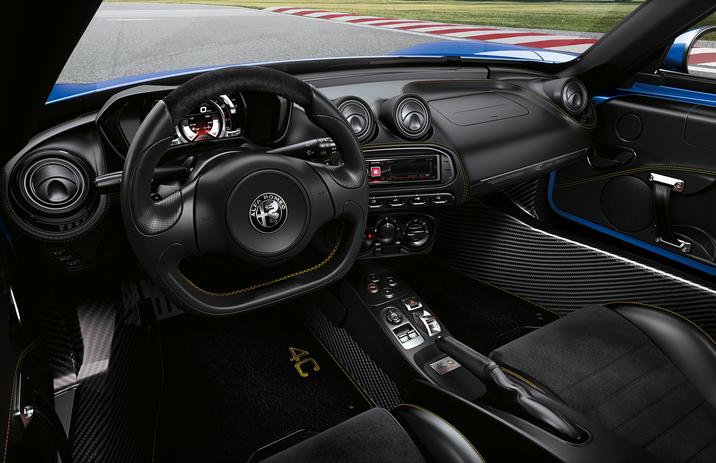 2020 Alfa Romeo 4C Spider Italia Design Cues
There are also a few other unique appearance features for the 2020 Alfa Romeo 4C Spider Italia. The interior will offer the following for a sportier look that lets you know that you're driving something special:
Unique livery with dedicated ''4C Spider Italia'' graphics
Aluminum dashboard insert with ''4C Spider Italia'' logo
Progressively numbered plate on the center console
On the outside, you'll get the exclusive Misano Blue Metallic exterior color, which will not available on any other variant of the Alfa Romeo 4C Spider aside from the Italia. A Piano Black front air intake & rear diffuser are also included to give a solid contrast to the bold paint on the 4C Spider Italia.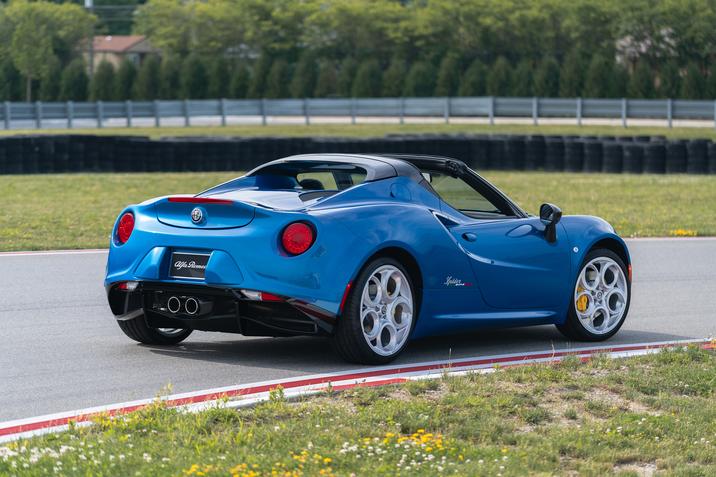 The Alfa Romeo 4C Spider Italia is handcrafted in Modena, Italy to provide an even more Italian feel. We will be excited to tell you all about this limited-edition model, so feel free to reach out to our team to find out how you can get behind the wheel of 1 of the 15 coming to North America!
And stay tuned to the Ramsey Alfa Romeo blog to learn even more about the upcoming 2020 Alfa Romeo 4C Spider model that will be coming to our Bergen County NJ dealership location sometime later in the year!