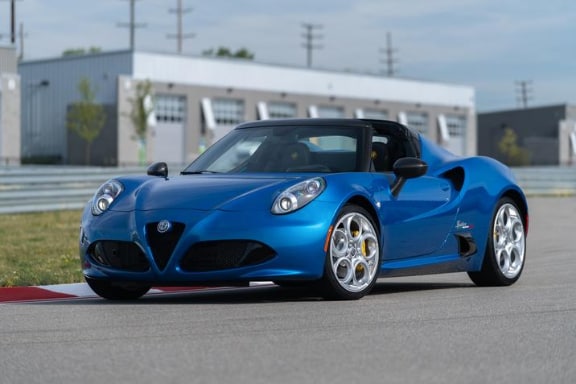 If you're looking for a new ride that combines the performance of a race car with an open-air driving experience of a convertible and the features of a luxury car, then the 2019 Alfa Romeo 4C Spider roadster! It gives you so many choices for the look you desire inside and out.
Between 7 exterior colors & 6 leather interior color combinations, Ramsey Alfa Romeo will help you find the one that best fits your personal style. Whether you're driving around North NJ, NYC or Upstate NY, the 2019 Alfa Romeo 4C Spider will surely give you a rush thanks to its all-aluminum 1750cc direct-injection dual-intercooled turbocharged engine that goes from 0 to 60 mph in just 4.1 seconds.
This engine is paired with 6-speed Alfa TCT (twin-clutch transmission) and the Alfa DNA Pro Drive Mode Selector. The latter lets you pick from 4 driving modes including Dynamic, Natural, All-Weather and Race, depending on what kind of ride you're looking for in the moment.
However, there are a few updates to the 4C Spider that you should know about what make it even better than its predecessor.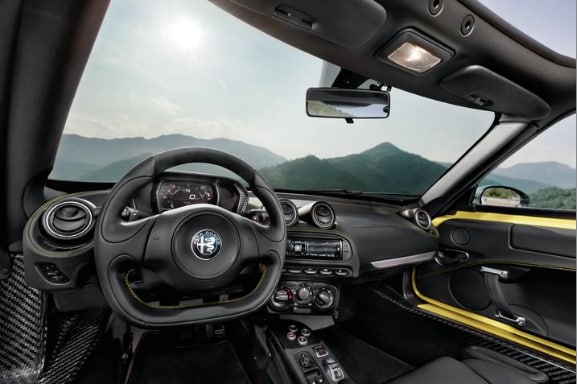 3 New Standard Features
Let's start with what comes in every 2019 Alfa Romeo 4C Spider at our NJ dealership location.
Power-adjustable folding outside mirrors with a defrost mode
Alpine premium audio system with a USB port & iPod interface, Bluetooth hands-calling & streaming audio and more
Aluminum pedals for that sporty look
Sport seating for extra comfort
Leather-wrapped performance flat-bottom steering wheel with mounted paddle shifters
Dual exhaust with chrome tips
Here are the latest amenities that now come standard in this convertible.
1. Rear Backup Camera
Designed to help you parallel park in NYC & other urban environments, the rear backup camera gives you a live picture of what's behind you when your 4C Spider is in reverse. It even comes with guidelines to show how close you are to hitting objects like the curb or the car behind you.
2. Rear Park Sensors
Once a part of the now discontinued Convenience Group Package is the ParkSense rear park assist system. Using sensors in the back end of the convertible, this feature gives you an audible alert to indicate when your car is getting too close to another object.
3. Cruise Control
This technology was also a part of the former Convenience Group Package. Cruise control lets you set a certain speed to keep your vehicle at, which is ideal when you want to give your right foot a break during long trips on the highway.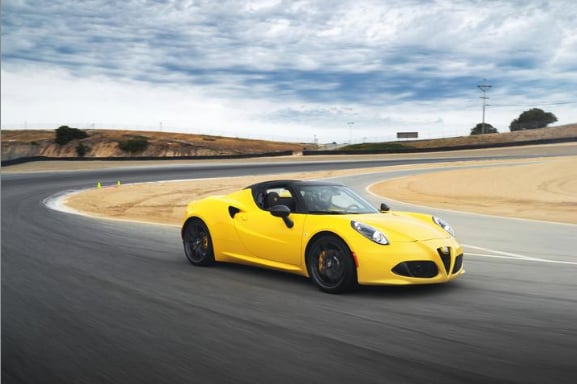 3 New Standalone Options
We previously mentioned the variety of color schemes you can get in the 2019 Alfa Romeo 4C Spider. There are also plenty of other choices you can make in this convertible including the addition of features like a number of unique wheels and carbon fiber accents inside & out.
However, there are 3 more standalone options available to customize your roadster the way you want to, though we're going to list 2 of them together. All of them were originally part of the now discontinued track packages.
1. Race-Tuned Suspension
We know that your suspension is key when putting the pedal to the metal and handling sharp turns. You can now get race-tuned suspension that enhances your 4C Spider's performance thanks to the use of unique front & rear sway bars and performance-tuned shock absorbers.
2. Microfiber Steering Wheel
If you want to get an even more sporty look inside, then you should opt for the microfiber steering wheel. Available on most interior color scheme options, this steering wheel is just like the one that comes standard except that it also includes a microfiber insert that pairs especially well with the interior choices that give you microfiber center inserts.
3. Carbon Fiber Mirrors
We mentioned carbon fiber accents earlier, but here are a couple more you can get with or without the Carbon Fiber Interior Trim Group. You can choose to get carbon fiber outside mirrors either with or without an Italian flag on them, depending on if you want to show off the Italian pride of your own culture or of the Alfa Romeo brand.
Though it weighs less than 2,500 lbs, the 2019 Alfa Romeo 4C Spider is a heavy hitter when it comes to performance roadsters. Contact Ramsey Alfa Romeo to learn all about this new sports car today!