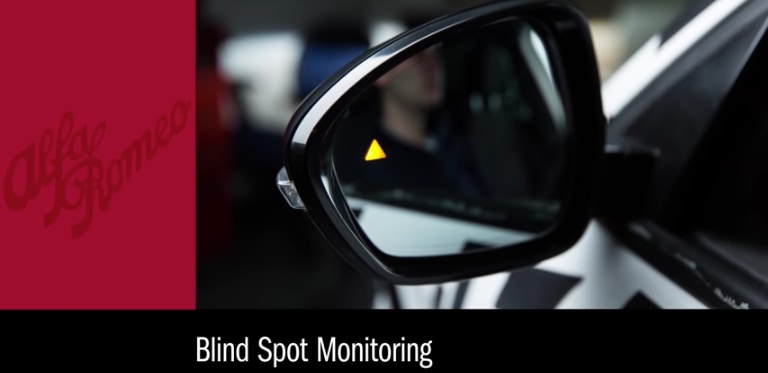 ​
Blind spot monitoring is designed to work as a second set of eyes that see what yours might not necessarily be able to without turning around & taking your eye off the road in front of you.
Being optional in select Alfa Romeo models including the Stelvio & Giulia and standard in the Quadrifoglio versions of both, the blind spot monitoring system warns you when a vehicle or another object is traveling in your vehicle's blind spot on either side.
How Does Blind Spot Monitoring Work?
If equipped, blind spot monitoring uses 2 sensors in the rear bumper to let you know when other drivers enter into your blind spot zones from the front, rear or side. When the engine starts, a triangle-shaped warning light shines in both side view mirrors to confirm activation, which starts when your Alfa Romeo reaches about 6 mph.
The blind spot monitoring detection zone covers the width of about one lane on either side of the vehicle and the rear of the vehicle in that width. If another vehicle appears in your blind spot or is you use your turn signal in the direction where a vehicle is in your blind spot, the coordinating outside mirror's warning light will turn on.
This system works best if you always keep the rear bumper free of snow, mud or other debris. You also cannot block that area with foreign objects like bumper stickers or bicycle racks since that will also prevent the system from working.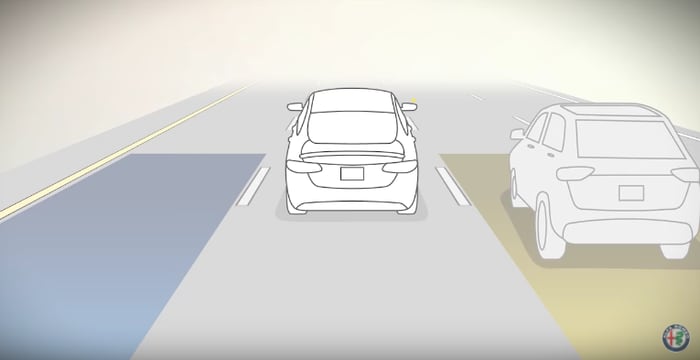 Here are a few other things you should not about the blind spot monitoring system:
If the difference in speed between you and the other driver is greater than 15 mph, a warning will not be issued.
If your vehicle gives you alerts on stationary objects like guardrails, posts or foliage, there's no need to panic since the system is working just fine and does not require service.
You won't be alerted to vehicles or other objects traveling in the opposite direction in other lanes.
You can switch this technology on or off through the information & entertainment system.
Blind spot monitoring also acts as an assistant to the available rear cross path system. Rear cross path helps you back out of parking spaces, driveways and other reduced-visibility situations by alerting you when an object moves towards your vehicle at speeds below 21 mph with a visual & acoustic warning.
You'd be blind not to see why this technology is one of the most popular at Ramsey Alfa Romeo, where there are several models in stock that come equipped with this system.