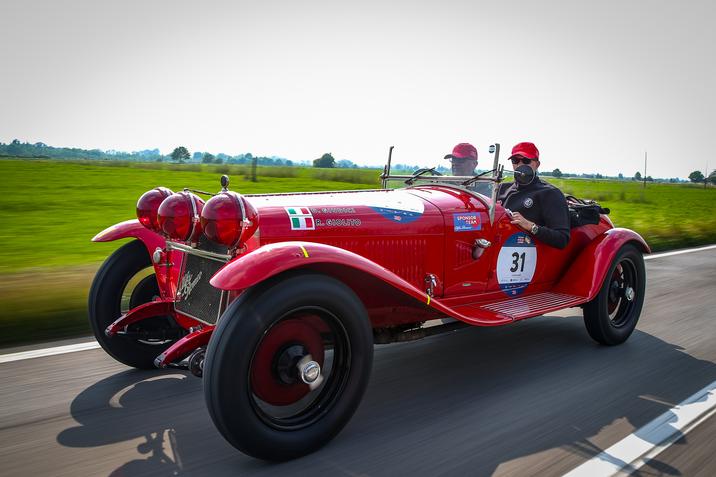 This year is the 90th anniversary since Alfa Romeo's first victory at the Mille Miglia. This is a race that our brand has had 11 victories, 11 silver medals, 10 3rd-place finishes and 9 triples (or Alfa Romeo cars taking the Top 3 places).
And we're proud to say that the result of the 2018 Mille Miglia race, which ran from May 16-May 19 over in Italy, is another triple for our brand! The top 3 placing vehicles in this event are:
Alfa Romeo 6C 1500 GS Testa Fissa
Alfa Romeo 6C 1500 Super Sport (dates back to 1928)
Alfa Romeo 6C 1750 SS Zagato
About the Mille Miglia
The Mille Miglia was created in 1927 as a mass race that starts and ends in Brescia, which will take a route leading to Rome and then back up the Italian peninsula. Other sites and cities that are passed through during this 3-stage event includes (but is not limited to):
Milan
Tuscany
Alfa Romeo Historical Museum in Arese
Cervia-Milano Marittima
Desenzano del Garda
Salina Park in Cervia
Monte San Bartolo Natural Park
Tyrrhenian Sea
Ancient capital of the Duchy of Parma
The name Mille Miglia comes from the 1,000 imperial miles this drive totals. The 2018 Mille Miglia broke records since a total of 450 crews took part, including 10 in the "Military Category", representing 72 different automotive brands and 36 countries across every continent. Of the groups entering, 47 were driving Alfa Romeo vehicles.
And waiting at the finish line to celebrate our brand's win? Alfa Romeo Sauber F1 Team C37, which is the Formula 1 racing team our brand is represented by. Our vehicle lineup is also represented by a couple of race-inspired models with the Quadrifoglio nameplate.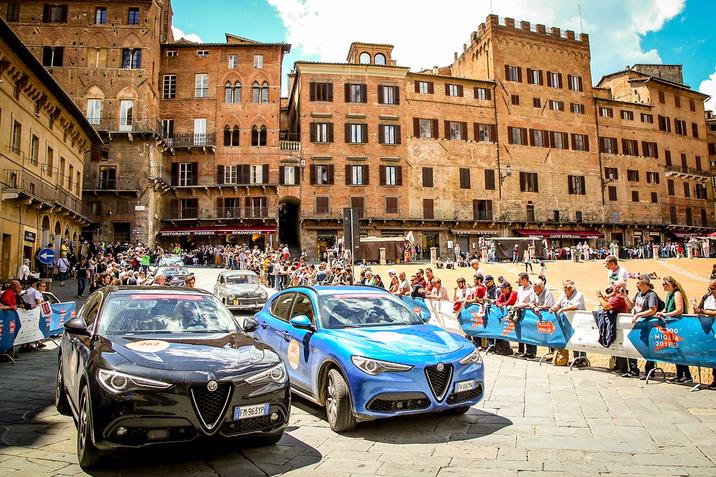 Quadrifoglio: Fun For Racing & Road Trips
The 2018 Mille Miglia is just a part of our brand's racing heritage and future. We're proud to offer both the Alfa Romeo Giulia Quadrifoglio and the Alfa Romeo Stelvio Quadrifoglio that are ideal if you want to put the pedal to the metal or drive 1,000 imperial miles of your own because of the features you get.
Under the hood of these models is an all-aluminum 2.9L twin-turbocharged V6 that delivers 505 hp & 443 lb/ft of torque and uses single-scroll IHI turbochargers with variable boost management. Other performance features offered on these models include:
Steering column-mounted aluminum paddle shifters
Alfa DNA Pro Drive Mode Selector with Dynamic, Natural, Advanced Efficiency & Race modes
2-mode performance exhaust system
Quadrifoglio-tuned steering calibration & active suspension system
High-performance Brembo brakes or ultra-high-performance Brembo carbon ceramic material brake system
These models will also keep you safe no matter how many miles you want to put in on the road thanks to technologies like:
Forward collision warning with autonomous emergency brake & pedestrian recognition
Integrated brake system
Lane departure warning
Adaptive cruise control