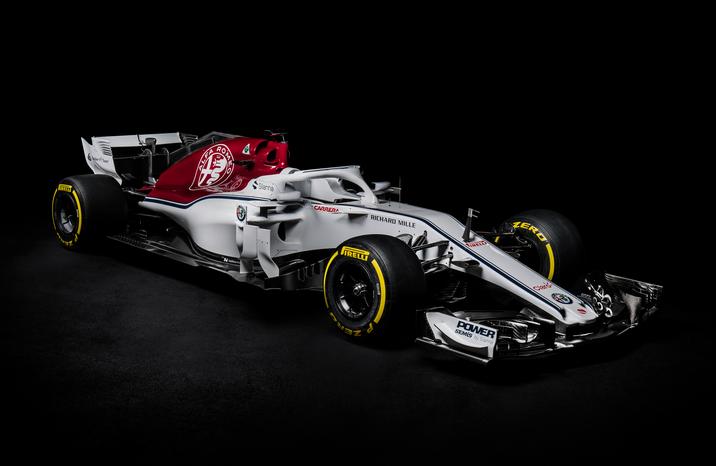 It's been 32 years since Alfa Romeo has participated in a Formula One season, but we're back in the saddle as our brand is teaming up with Sauber to present the C37! It's ready to compete in the 2018 F1 season and we see it as being a winner!
"Our target ahead of 2018 is clear: We have to catch up with the field and to continue improving our performance during the course of the season. We have put lots of energy and commitment into the development of the C37. I want to thank our partners and fans for their continuous support.

The return of Alfa Romeo to Formula 1 sets another milestone in the team's history and I am proud that such a historical brand has chosen us for their return to the sport. We are eager to start the 2018 season as the Alfa Romeo Sauber F1 Team."

-Frédéric Vasseur, Alfa Romeo Sauber F1 Team Principal
The Alfa Romeo Sauber F1 Team C37 car looks different than its predecessor, the C36, for 3 reasons: A color scheme featuring red and white, the colors of Alfa Romeo To be compliant with new technical regulations per Formula One including a new "halo" safety device to prevent head injuries A new technical approach by the design team, specifically the new aero philosophy presented by technical director Jörn Zander
One of the 2 drivers of the C37 will be Marcus Ericcson who will be driving for Sauber for the 4th year straight and brings a lot of experience & precise technical feedback to the tema. Charles Leclerc, who deserves to be on the grid this season due to his talent in prior categories, is the 2nd C37 driver for 2018.
We're proud that there will be an Formula One car that'll once again bear the Quadrifoglio badge. The Alfa Romeo Giulia Quadrifoglio that's available now gives you the feel of a F1 vehicle thanks to its 3.8-second 0-60 mph time, 505-horsepower 2.9: bi-turbo V6 and Alfa DNA Pro Drive Mode Selector with a Race mode along with natural, advanced efficiency and dynamic.
Don't forget about the much-anticipated Alfa Romeo Stelvio Quadrifoglio high-performance SUV that has similar features to its Giulia cousin except with more space inside for passengers and cargo.
Shop Our Alfa Romeo Quadrifoglio Inventory



History of Alfa Romeo in Formula One
Alfa Romeo is one of the founder fathers of F1 because it participated in Grand Prix races before Formula 1 existed. The P2 & P3 were a couple of big winners in the 1920s-early 1930s and didn't come back into racing prominence until after World War II when the 158 & Alfetta 159 won back-to-back World Championship of Drivers titles.
Our brand wasn't in prominence until the Alfa Romeo 177 came along and debut at the 1979 Belgian Grand Prix. The Alfa Romeo 890T introduced the first & only turbo V8 engine to be used in 1983. The last Alfa Romeo vehicles to race on the Grand Prix circuit were the 184T in 1984 and 185T in 1985... until now!
This year's Formula 1 Grand Prix starts on March 25 in Melbourne, Australia and ends on November 25 in Yas Marina, Abu Dhabi. We hope the 2018 Alfa Romeo Sauber F1 Team C37 brings home a championship!