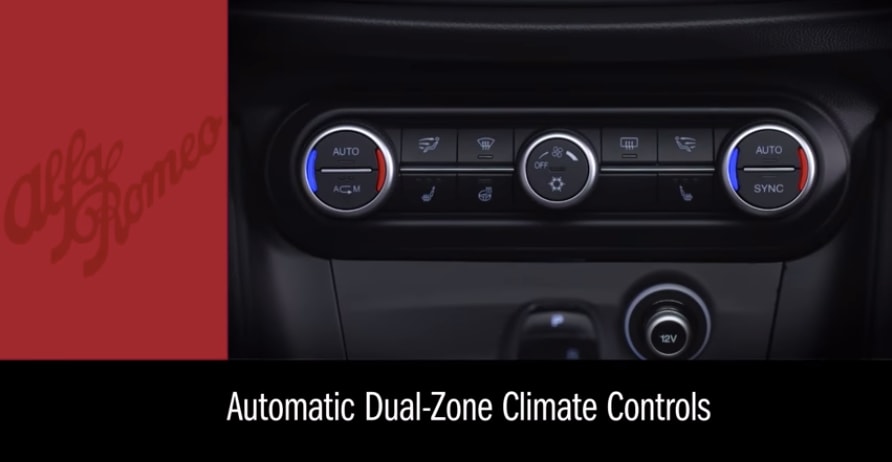 We know that one of the main reasons to choose a luxury car or SUV is because of the comfort you get. And part of that comfort is the temperature inside the vehicle.
That's where Alfa Romeo dual-zone automatic climate control comes in! Coming standard on both the Alfa Romeo Giulia and Alfa Romeo Stelvio, this climate control system is designed to give independent temperature levels for the driver and front passenger to ensure that both won't be too hot or too cold.
People in general are built differently, so some like it warmer on a cold day but not too hot while others need all the heat they can get. The same applies for hot days and both of these situations are commonplace in North New Jersey since our seasons vary greatly in temperature each year.
How Dual-Zone Automatic Climate Control Works
In order to use Alfa Romeo Giulia or Stelvio climate control, simply use the control knobs located at the center of the dashboard to adjust the temperature for the driver's side & the front passenger's side. Then press the corresponding AUTO button for automatic climate control.
You can change the temperature set at anytime during automatic operation for when you're feeling too hot or too cold. If you're traveling alone or with those who aren't picky, hit the SYNC button to make both temperatures the same for a consistent feel inside the cabin.
One of the great features of the dual-zone automatic climate control system is air recirculation. Air recirculation actually keeps bad odors and traffic exhaust out of the cabin to ensure that every sense is satisfied. And in North New Jersey, we know all about bad odors and bumper-to-bumper traffic!
Another function of air recirculation is to optimize cooling when you first turn on the air conditioning. The 3 modes of this features are:
Automatic: press the button once to let the system take control of the recirculation as needed
Forced Activation: press the button twice to always keep recirculation on, which will definitely come in handy when driving down the NJ Turnpike
Forced Deactivation: press the button 3 times to always let outside air in through the climate control system
Just a couple of notes: you can't use the front and/or rear defrosters at the same time as air recirculation and you can still use manual climate control by setting the controls to your desired temperature.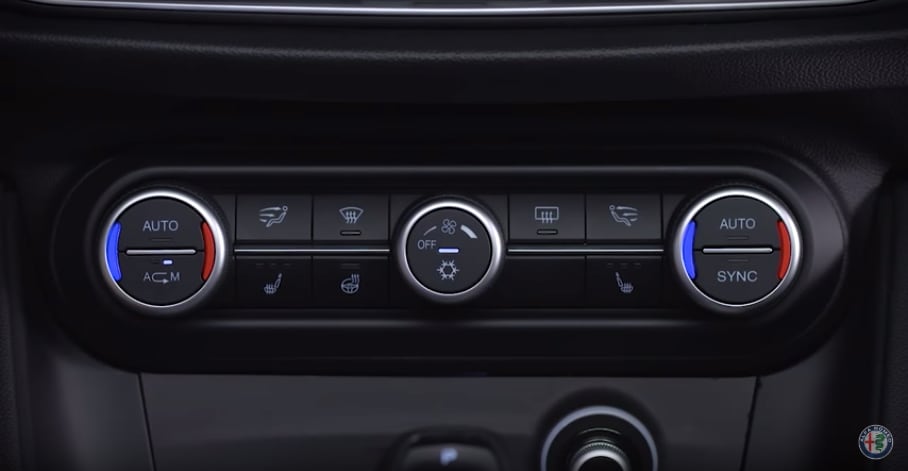 Alfa Romeo Climate Control Problem Solving
Like any other component of your vehicle, there's a chance that your Alfa Romeo may have a climate control system problem in the future. And also like any other vehicle issue you have, the Ramsey Alfa Romeo service department can help fix anything you can't using your owner's manual.
All of our technicians are Alfa Romeo certified to perform any major auto repair & routine vehicle maintenance to the models of our brand including the climate control system for the Giulia & Stelvio. We would recommend scheduling an appointment at the Ramsey Alfa Romeo service center, located at 1555 Route 17 South in Ramsey NJ.
That's because our team will need time to thoroughly inspect your Alfa Romeo's dual-zone automatic climate control system to determine what is causing the problem. We'll give you an honest assessment on what needs to be done to fix the issue and prevent more problems from coming up in the future.