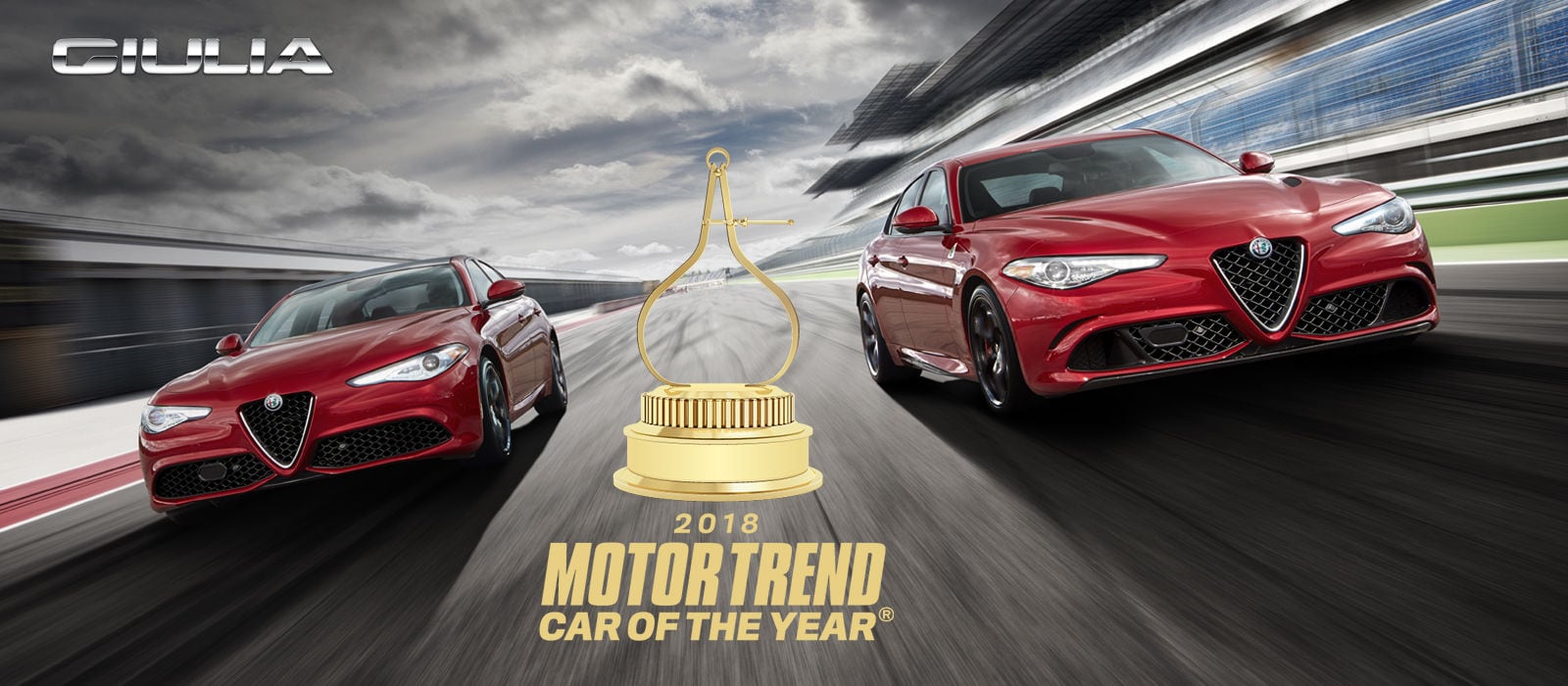 Ramsey Alfa Romeo is so excited that the Alfa Romeo Giulia has been named Motor Trend's 2018 Car of the Year®! This award applies to every trim including the Alfa Romeo Giulia, Alfa Romeo Giulia Ti and Alfa Romeo Giulia Quadrifoglio. The luxury sedan beat out a tight field of finalists of popular vehicles in the North New Jersey area that includes:
Honda Accord
Honda Civic Type R
Kia Rio
Kia Stinger
Lexus LC
Porsche Panamera
Tesla Model 3
There were many other contenders that did not make the finals, but were still in the running for this prestigious accolade. Here's a list of all of them:
Audi A4 Allroad & A5
BMW 5 Series
Honda Civic Si & Odyssey
Hyundai Elantra GT & Ioniq
INFINITI Q60
Kia Niro
Lincoln Continental
Mercedes-Benz E-Class Coupe/Wagon
Nissan LEAF
Porsche 718
smart ForTwo Electric Drive
Subaru Impreza
Toyota Camry & Prius Prime
Volvo V90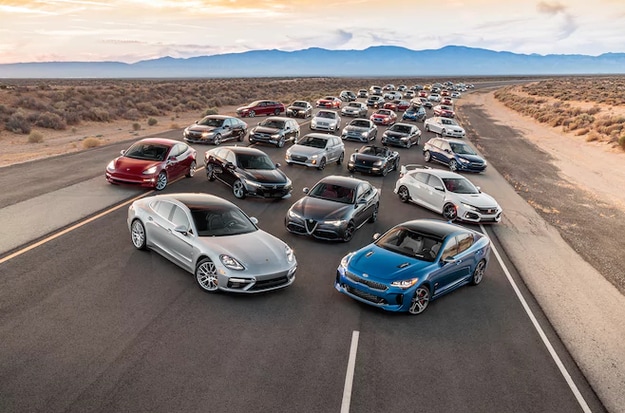 Motor Trend's 2018 Car of the Year® Qualifications
The Motor Trend Car of the Year® program evaluates any all-new or substantially upgraded vehicles for a respective model year, 2017 in the case of this year's award. A total of 26 vehicles were eligible this year, which is the 3rd largest field ever, and the judges at Motor Trend narrowed this down to 8.
Even before the 8 finalists were named, Motor Trend first put each contender through a full battery of performance tests to see how well they drove while accelerating, braking and limit handling. Without competing against each other, each vehicle then got an evaluation on 3 separate professional automotive test center courses.
Then, each of the 8 finalists were evaluated by judges based on the following criteria:
Advancement in design
Engineering excellence
Safety
Efficiency
Value
Performance of the intended function
After more than 7,000 miles of driving that includes real-world driving and avoidance maneuvering on roads with potholes, jagged pavement, steep grades, misaligned railroad crossings, the judges declared that the Giulia characterizes what car shoppers want the most in their next vehicle.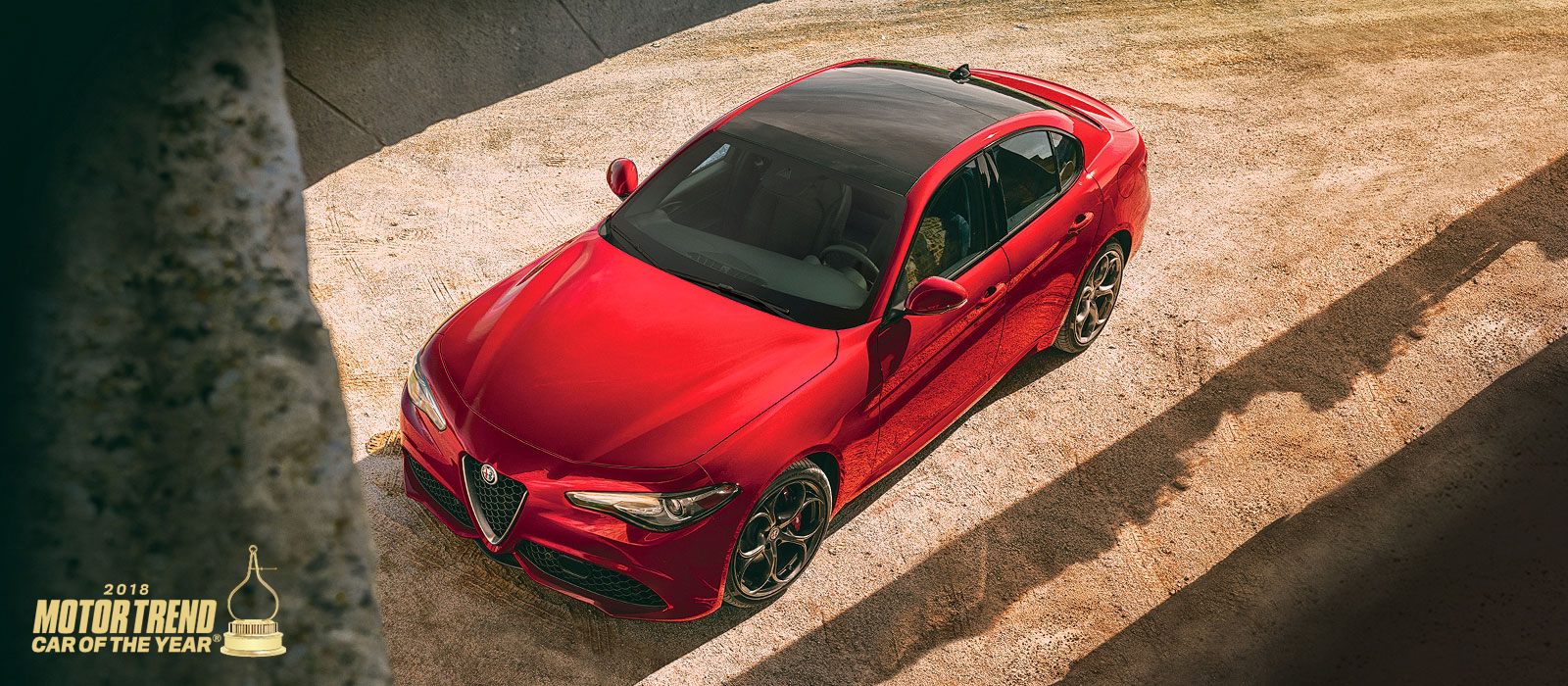 What the Judges Had to Say
Motor Trend Editor-in-Chief Ed Loh deemed the Alfa Romeo Giulia "the new ultimate driving machine" because of how fine it handles. Motor Trend road test editor Chris Walton added that the sedan takes over the space made by the departure of the BMW 3 Series, except that it rides and corners better.
Motor Trend international bureau chief Angus MacKenzie said that the new Giulia captures the spirit of Alfa Romeos of the 1960s that were known to be fast and charismatic, but in a more modern way. Chris Theodore, guest judge and former product development executive at Ford & Chrysler, stated that its steering and chassis saves the sport sedan market.
Theodore and Motor Trend Detroit editor Alisa Priddle both commended the fun driving experience that lets you easily feel in control. The steering, along with the smooth ride, was why Motor Trend features editor Christian Seabaugh enjoyed the Giulia so much. Former Chrysler head designer Tom Gale enjoyed the design and the visual elements of this Alfa Romeo.
And finally, Henry Ford once said, "when I see an Alfa Romeo go by, I tip my hat." We at Ramsey Alfa Romeo tip our hats to the Giulia that's won so many awards in just its first full year of being back on NJ roads.
Shop For an Alfa Romeo Giulia